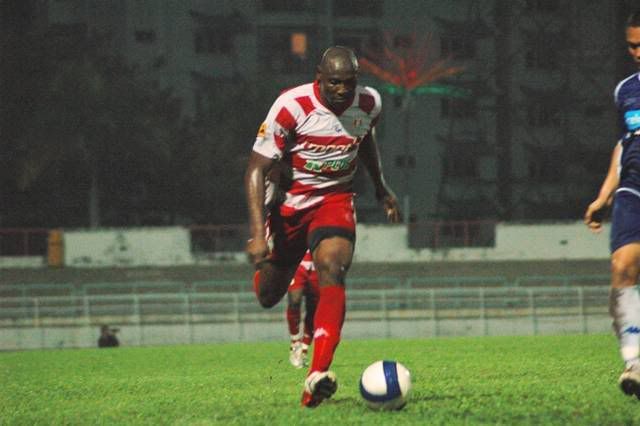 Alex Agbo (picture's from plus's studio, CCD)
A hatrick from Alex Agbo propelled KL Plus to an emphatic 4-1 win over Armed Forces minute at the Selayang Stadium., allowing the Highway Men to head the Premier League with 4 points from second place, Kuala Muda NAZA.

Agbo struck in the 53rd, 86th and 91st minutes with G.Saravanan finished the glory night for Plus FC with a goal in the 93rd minutes. The soldier got their only goal in the 92nd minutes through Suhaimi Ishak.

With the win, KL Plus has pulled away from the pack with 40 points, while Kuala Muda NAZA remains in second place, four points adrift.

Kuala Muda Naza beat Proton FC 4-2 in Kelana Jaya last night. Proton FC scored their first goal through Charles Gaye Wright in the 27th minutes. Shocked with the goal, Kuala Muda replied back before half time through Jose Antonio Vega. When the match continued after the break, Kuala Muda added another 3 goals through K.Sathian (49th minutes), Ngoku Emeka (53rd minutes) and another goal from Jose in the 78th minutes. Charles got another goal for Proton 5 minute before match end.

At Likas Stadium, Sabah beat Felda United 4-1 with a hatrick from Salvester Sindih (38th, 42nd & 54th) and a goal from Jamie Lawrence Phoenix in the 45th minutes.

With the win, Sabah jumped into 4th place with 30 points, overtook Kelantan who only draw with Kuala Lumpur 1-1 at Cheras Stadium. The City Boys took a lead in 29th minutes through Nohd Ivan Yusoff but Kelantan got their equalizer in the 63rd minutes through substitution, Mod Ramzul Zahini.

At Darul Makmur Stadium, Kuantan Port/Shahzan Muda lost to Melaka 1-2. Melaka got their goals through Mohd Hafas Abdullah in the 2nd minutes and George Opoku Weah in the 66th minutes. Sahazan got their consolation through Mohd Sharizan Salleh in the 85th minutes.